Specifications
Model No.
 NK-SSL-80W
Lamp Power
 80 W
LED luminous efficiency
140~160 lm/W
Equivalent
250 W  high pressure sodium lamp
Lamp Rated luminous efficiency
140 lm/W
Lamp Total Flux(Tj=60℃,Ta=25℃)
  11200 lm
Input Voltage
 DC12V  or  24V
Mounting height(m)
 8–10 m
Lamp Efficiency
  >97%
Total Harmonic Distortion (THD)
  <10%
Power Factor (PF)
  >0.95
Color Rendering Index (CRI)
  >80 Ra
Beam Angle
Horizontal Axis: 120°                           Vertical Axis: 60°
Color Temperature
  3000k—7000K
Waterproof
 IP65
Warranty
3–5 Years
Light Distribution Curve
  Rectangular Beam
Lifespan
>50,000hrs
Working Temperature
  -30℃ ~ +50℃
Lamp Body and Lampshade Material
  Aluminum Alloy and PMMA
Lamp Size
 1690 x 315 x 65 mm
Net weight
20.5 kg
Application place
Road, pedestrian road, square, park, parking lot, industrial park, leisure and tourism scenic area.
Notes
Do not need cable to connect AC voltage, simple and easy installation with the lowest labor costs,
automatically switch according to brightness, 100% lighting when sb close and 50% lighting when nobody near, maxium energy saving, working 3-5 consecutive nights.
Parameter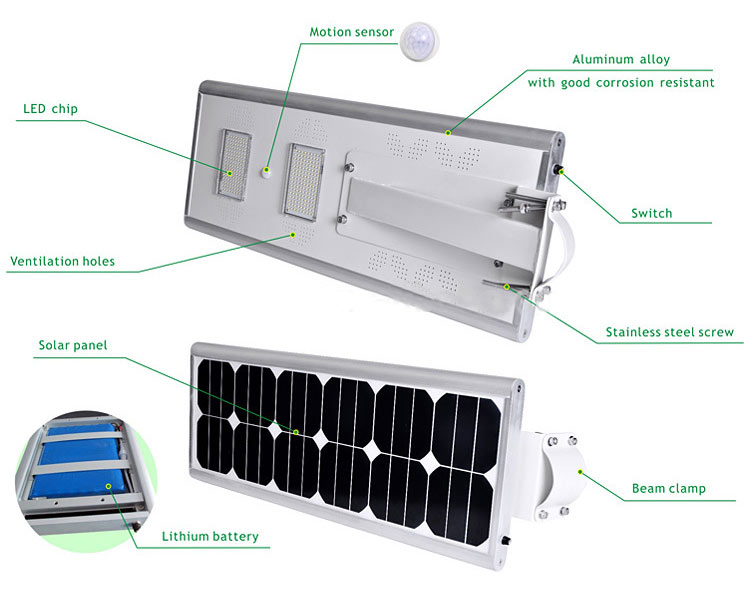 Want to ask questions, suggestions or business advice? We would be happy to contact you.